Weekend!
George Carlin has a bit in which he notes that every pet is a small tragedy waiting to happen. Louis CK has a similar bit where he translates "I brought us a puppy!" into "I brought us crying in a few years!"
Well, Cecilia, the little cat that shows up in my little avatar has cancer. Years ago, it first manifested in a claw of hers that made her gripe and carp whenever we trimmed the nail. Eventually, she yowled and we figured we should call a vet because maybe she had arthritis or something. He put her under and, instead of talking to us after 5 minutes of checking her out, he talked to us after 35 minutes of removing her middle digit on her right front paw. It seems that, underneath her claw, she was growing another claw. "Yep. That happens sometimes," he told us. "Best to just amputate."
A year or so after that, she had a bit of a goiter. The doc checked it, said "yep, that happens sometimes." We drained it and she was in a much better mood.
A year or so after that, she got a similar boil on her lower back, right over her tail, and we figured that that would have to be drained too. The doc felt it, agreed, poked it… and, nope. It was a mass. A small bit of it was extracted and analyzed and, yep, it was cancer. That happens sometimes.
Which led to conversations about what now. Do we want to try to remove it? (We did.) If it comes back, do we want to try to remove it again? (We didn't.) What kinds of palliative care are we going to explore? (Pilling, unguents, and steroids.) Which mythologies had a God or Goddess of Cancer? If so, what is the name of the God/Goddess of Cancer?
In researching those last two, we didn't really find anything (which surprised me) but we did find a wonderful little essay called "The Goddess of Everything Else" by Scott Alexander at Slate Star Codex. It didn't really help with the whole "pet dying" thing, of course. But it, seriously, is a lovely little creation myth.
Well, we found that Cecilia HATES being pilled and that didn't last that long. She doesn't mind having a painkiller unguent applied to the inside of her ear, where she doesn't have any hair, and that lasted a bit longer… but we discussed it with the vet and we hammered out that steroids would do a good job of reducing the swelling and irritation but that was because we would be turning off her immune system which was, at this point, not exactly fighting on her side anymore.
We were warned that this would be the last thing we do before the last thing we do.
And so we gave her the steroids suspended in a fish oil and she lapped them up with gusto and her swelling reduced and her irritation went away and much of her old personality returned. She quacks for treats and yelps for food and purrs when petted and she demands attention. Granted, she's a lot skinnier than she was this time last year and she seems to be a bit more forgetful insofar as she sees us walk to the fridge and her pavlovian response is to ask for a treat… even though we're walking back to the fridge to put the treats away after giving her a helping into her bowl. (A gentle reorientation of her so that she's staring down into the bowl generally results in the expected "holy cow! treats!" response.)
And so we enter what might be the last weekend with her before we call the person who comes to the house with some barbituates, a white blanket, and a little card with a poem that talks about a rainbow bridge.
Every pet is a small tragedy. We'll see if Cecilia's concludes this weekend or the next.
For what it's worth, every other part of having her as a cat was really, really awesome. Funny, affectionate, lazy, chubby, overflowing with joie de vivre, gluttonous, and only occasionally surly. This part is really the only bad part of the whole experience. I'll be the first to say to say "it's worth it" except that it's a little tough to speak about it at this particular point in the process.
So we're going to spend this weekend with Cecilia.
So… what's on your docket?
(Photo is "Footrace finish line, 1925" from the Seattle Municipal Archives, used under a creative commons license)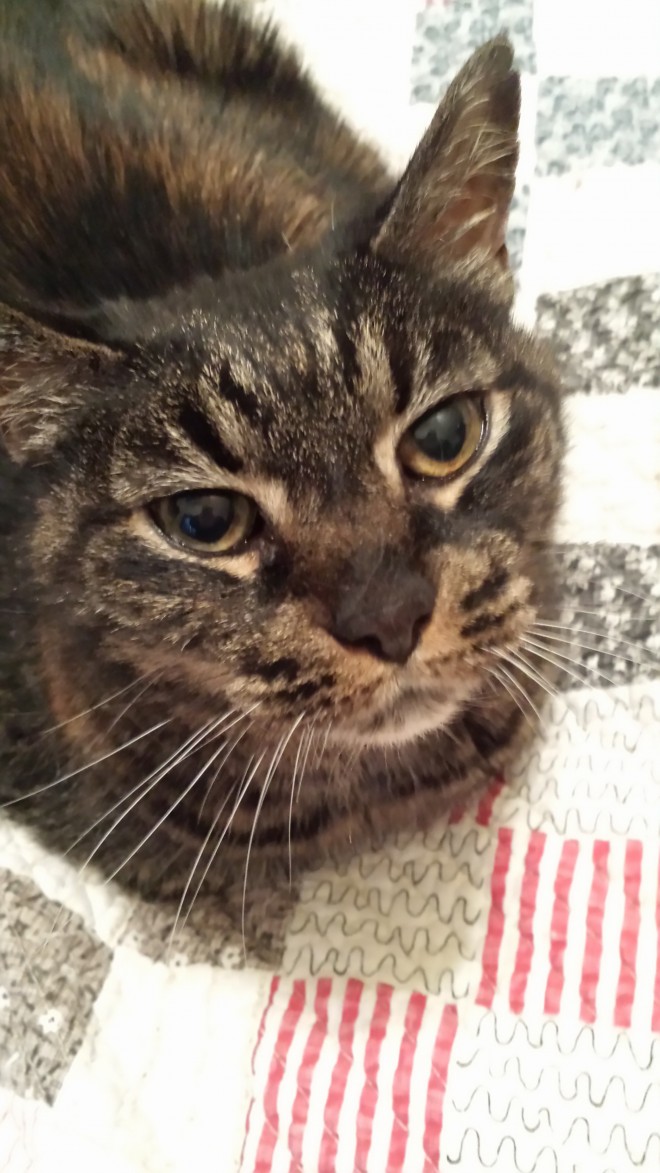 Here's a picture of her from tonight; the last family time she ever spent on the bed.