The Data Says Everything Is Fine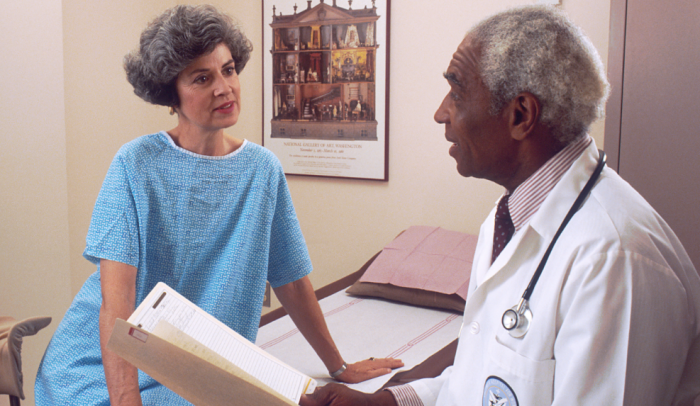 My wife's employer recently began a new employee training program. It is the kind of employee training program that, once I learned of it, I very much wanted to wish away. But I couldn't.
This new employee training program is simple on its face, even as it is far more complicated in its practice. The training provides staff members with the skills and tools to handle patients who, upon having learned that their assigned physician or nurse is not white, request one that is.
The hospital will not reassign medical staff for this particular reason. Because of this, the staff needs to know both how to politely decline such requests coming from people who, being in a hospital for treatment, are likely already uncomfortable, in pain, and/or worried. Those staff who are not white also need to know how to best deal with caring for patients who have just declared their dislike or distrust of them. And all of this needs to revolve around the unbendable philosophy that, first and foremost, the care of these patients is everyone's primary responsibility. (As I said: simple on it's face, challenging in its practice.)
All hospitals have very specific policies regarding the changing of staff for non-medical reasons, and these policies lean heavily against replacing staff to accommodate a patient's whims. Those in the healthcare industry believe that the more they allow a changing of staff for non-medical reasons, the greater the risk to overall quality of care. And replacing a staff member due to their race has the obvious added detriments of potential civil rights lawsuit and bad publicity. It is no surprise, then, that this policy of not replacing medical staff for reasons of race at my wife's hospital is not remotely new. It has existed long before any my wife's colleagues practiced medicine, and some of those colleagues are in their seventies.
But if this policy has existed for so very long, one might reasonably ask, then why is this new training program being implemented now? And the answer to that question is that, for the first time in institutional memory, there is suddenly a need.
Prior to this past two years, a patient requesting a white doctor was almost an urban legend at my wife's hospital. It was one of those things that the occasional staff member had heard of happening to a friend of a friend of a friend, years ago, but they didn't quite know when or to who. In the past couple of years, however, something has shifted. Requests to be kept away from the hands of non-white doctors and nurses are now popping up with increasing regularity.  And the staff, frankly, have had no idea how to deal with patients who made such requests other than simply refusing them, because this is a phenomena they have not had to deal with until recently.
To be clear, my wife's hospital is not in the the deep south, so-called fly-over country, or a red (or even a purple) state. The city we live in is so liberal that both Bush administrations referred to us as "Little Beirut" because they found us so leftist as to be a borderline enemy of the United State; most conservative radio hosts, on the rare occasion they refer to us at all, add the prefix "The People's Republic of" to our city name to hammer home this exact same point. Further, my wife's hospital does not have a way to profit off of sensationalism, the way media outlets do. This new training program is not designed to generate clicks or ratings for the hospital. They are not tweeting about this training; they are not talking about it on Facebook. They are not attempting to attach this new training program to a political candidate, party, or movement. Indeed, they are hoping to avoid any publicity at all. It is out of respect for this desire that I am choosing not to name the hospital in this post.
No, the reason the hospital has implemented this change is the reason most large institutions do so: the environment in which they operate has already changed, and they are simply trying to keep up with the times.
*     *     *
Last week the New York Times published an opinion piece by Stephanie Coontz that suggested that millennial-generation men are increasingly wanting women to say home and take care of the house and family while men went out and earned money.
The resulting cascade of social media reaction was entirely predictable. First came the wave of agreement that millennials are just the worst. Then came the wave of everyone who doesn't blindly worship Trump somehow blaming the Donald for this trend. Then came the wave hand wringing about the state of feminism in 2017. Then various people posted criticisms (some quite excellent criticisms, in fact) of the Coontz piece, as well as the work by sociologists Joanna Pepin and David Cotter Coontz referenced. Then came the wave of agreement that the New York Times, science writers, and sociologists in general are just the worst.
Although I don't believe that millennials are worthy of being singled out, I'm not sure that Coontz is entirely wrong about the trend of how we as Americans view equality. I mentioned this to Vikram on Twitter, and he responded quite reasonably by wanting to hash out the data. And to be be honest, I'm not sure there is data that can unequivocally support what I believe. And yet I'm not sure that my belief is therefore incorrect.
Allow me to zoom out a bit.
For me, the Coontz mini-tempest has mirrored the story arc of the recent rise in threats against synagogues. As a reminder, 2017 saw a terrifying rise in bomb threats against Jewish houses of worship here in the United States. Whether or not that was surprising is debatable. Anti-Semitism, after all, has seemingly been on the rise these past few years.
Or has it?
Most journalists I know who are Jewish (or who aren't but have vaguely Jewish-sounding names) have spent the past two years being bombarded with anti-semitic slurs on social media. Jewish cemeteries have been desecrated. College campuses have been reporting a dramatic spike in anti-Semitism. When Jewish groups asked Trump and his administration to condemn these acts — including the bomb threats — they were alarmed to find that the White House seemed to go out of its way to avoid doing so.  1  While the President's own daughter has converted to Judaism, he himself has famously retweeted Neo Nazis, has praised talk radio hosts who dabble in Jewish conspiracy theories, and tagged a man who ran a publication whose readers frequently attacked Jews with slurs and who was accused by his ex-wife as being anti-Jewish himself as his Chief Strategist.
If all of this seems troubling to you, know that those people who rely on solid data when evaluating controversial claims are not so sure that it should be. "Responsible commenters would do well to wait for hard evidence" of anti-semitism explained NRO, while the Washington Post noted that  "it's not so clear" that there were any trends about which one should be concerned. Data is data, after all, and everything else is but an anecdote. Added to this is the fact that the main perpetrator of the reported synagogues bomb threats is a Jewish teenager with dual US and Israeli citizenship. The worry that the rise of Trumpism and the alt-right either signaled or happened in conjunction with an increase in anti-Semitism, declared NRO's Jonathan Tobin, was merely "liberals [hitching] their wagon to a false narrative." And for those who believe in data alone, Tobin's claim rings true. If the data doesn't back up the claim that anti-semitism is on the rise or that it is being mainstreamed, it might be best to discount the belief by some that it is.
The problem with this stance , however, is that data itself is limited. Data doesn't say what we should make of cemeteries being desecrated once the news of the bomb threats was made public, nor does it give us insight into the White House's great reluctance to condemn crimes against non-whites and non-Christians. Data doesn't guess why college campuses are seeing an increase in anti-Semitism. It does' even necessarily count that trend as important, because data correctly notes that those campuses represent a small and unusual slice of the population. We didn't have Twitter or Facebook when I was a kid, so the recent barrage of anti-Semitism against Jews on social media is by definition an aberration, and will remain so until such time as we have a long enough life span of social media to do proper measurements.
Here is an additional issue with sociological data: we live in a time where all of it is dismissible. As the conservative meme goes, all social science is "more social than science" — or at least it is when it goes against our prior beliefs. Vikram is correct when he points out that there are enough valid arguments to dismiss the trend of male views on women that Coontz claims is there. However, I've been a citizen of the internet long enough to know that this is true for all sociological studies. It is one of the primary jobs of the internet to take any academic finding and parse it finely enough that it's conclusions are rendered moot. Sometimes that takes great parsing indeed; sometimes it takes very little, depending upon the quality of the study. But the parsing will be done, and the conclusions will be invalidated, actual approximate distance from the truth not withstanding.
Are men today trending away from the concept of female equality? I believe this to be the case. To be true, most of that belief comes from evidence that is entirely anecdotal. It stuff like how a major news networks can report that women earning more than men is "anti-science," something no news show would have dared to report when I was younger. It's that the meme "make me a sammich b**ch" is considered more and more to be an acceptable social media response to women when discussing gender issues. It's that an an ex-writer from these very pages, on a group blog devoted to intellectually rigorous political dialogue, recently brought in an editor from the MRA site A Voice for Men to be an example of that intellectual rigor. It's that there is a still-growing trend of men sending rape threats via the internet to women for being feminist, famous, or merely online. It's that our elected leaders openly asking why health benefits for women shouldn't be carved out of health insurance coverages, and knowing that doing so will not negatively effect reelection chances. It's that political photo ops for policy concerning women's issues are now purposefully all male, and that this seems to be a winning strategy.
Data doesn't really adequately address these things, in much the same way data doesn't address the fact that a decade ago George Allen was forced by the GOP to apologize for saying "macaca" and in 2017 the GOP seems uninterested in condemning Steve King's far more disturbing white supremacist rhetoric. That's not what data is built for, really. But that doesn't mean that these things don't exist, or that they aren't important, or that they aren't part of a trend.
*     *     *
So no, I can't use data to prove that men's belief about women's equality is trending in a troubling direction. And I can't use data to prove that anti-Semitism is on the rise in 2017. And I can't use data to prove that it is becoming increasingly more acceptable to voice white supremacist beliefs. And even if I had such data, I know that you would have some other data that would counter mine, proving either that I was in error, or that there are some things we simply can't possibly know. All I have, at the end of the day, are these anecdotes, stories to which I admittedly choose to impart meaning. You may choose to reject those stories and the meaning I bestow upon them, and in the world of anecdotal data, your narrative is just as good as mine. We who spend out times debating on the internet, we all know this to be true. And yet.
And yet…
My wife's employer recently began a new employee training program. It is the kind of employee training program that, once I learned of it, I very much wanted to wish away. But I couldn't.
[Image credits: Screen shot of Pleasantville, NCI's "Doctor Consults With Patient" via Wiki Commons.]