A New Site Feature
A new feature to site users has just gone online. I write today to offer some of my thoughts and guidance about its use.
A Place For Quality Argument
From our inception, two editorial boards and many years ago, this site has been about sharing ideas. It has always been as much about a vibrant, diverse commenting culture as it has been about offering ideas and writing in our authors' posts. This site has never been, and I hope never becomes, an echo chamber. Dissent, disagreement, and dispute are not only welcome but solicited.
We've had a handful of moments within the community's history regarding particular individuals which became difficult to navigate and some of those incidents have left scars on our community. The wounds of those conflicts have driven smart, worthwhile members of our community away, and veterans of those experiences will, I'm confident, agree that we will be better off not repeating them.
The foundations of such conflicts remain present and are inevitably going to remain present as commenters interact over time. One of the many reasons we try to mix politics and culture in our posts is to offer up places where people who disagree on matters of public policy can find common ground with one another.
I came here first as a commenter, then as a writer, and now as an editor, precisely because I want this sort of environment. It's not for everybody. There are a lot of other places you can go on the Internet. Here, we have chosen to create a place for quality argument. Something more than partisans shouting slogans at one another. Something robust, intellectually rigorous, productive, and most of all, civil.
Experiencing the Commenting Culture
Our commenting policy aims at this ethic. We want to encourage rather than discourage the exchange of ideas. So we don't want people attacking one another, getting personal.
This doesn't mean that you won't be infuriated by someone who seems to be deliberately laboring to misunderstand the very clear, simple, and morally compelling point you've made eight times now. As long as that infuriation doesn't descend into the level of insult, and remains at the level of a clash of ideas, it's our much-considered position that we leave the dialogue be.
So, we police against personal attacks, and we police against the use of slurs and stereotypes that denigrate and exclude people who are likely to offer diverse points of view. But we don't police against unpopular opinions, we don't police against unfounded or even silly assertions, we don't police against poorly-structured or logically fallacious arguments. That sort of thing, we leave to be burned out of the discourse in the crucible of vigorous dialogue on the merits of any particular subject, by those people who care enough about the subject to engage.
Nevertheless, a large number of commenters have expressed, to me and other editors, a desire for stronger editorial intervention, focused on this or that individual based on whatever wave of events is then underway.
"Ignore Commenter"
In a bow to that desire, and with an acknowledgement of thanks to former Technical Editor CK McLeod, who created this device, we offer a new feature.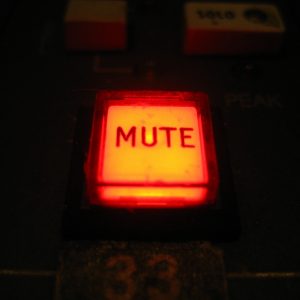 Introducing: the "Ignore Commenter" function. You, the individual user, can cause the site to not display comments on your computer from particular individuals. Other users will still see that comment, but you will not. So if there is one particular person who just plain drives you up the wall, you can hit a selective "mute" button and not have to read this person's comments.
Next to a commenter's name, you'll now see a small gray box decorated with a small gray "x." To mute the commenter, click on that and wait a few seconds. It will be replaced with a small green box, also decorated with an "x," but the content of that commenter's comments will not appear. This will hold true as you navigate from thread to thread, post to post; you will still see that the commenter has posted but will not need to read that person's comments. To un-mute that commenter, click on the green box.
Now, when I come across someone expressing an opinion I disagree with, or going about expressing that opinion in a way that strikes me as less than optimally productive, my impulse is to engage rather than disengage. And this can be used as a tool to disengage. Using this tool as a disengagement from ideas you don't like, from a perspective you don't like or don't fully understand, is something I discourage. Strongly. That's contrary to our mission as a community of diverse thought, and it's a big part of one of the fundamental problems we face — I speak of cultural Balkanization, polarization, sorting ourselves into self-affirming echo chambers, or whatever other phrase you want to use to describe it. The whole reason you should be coming to this site is to engage with people who think differently than you do.
We're offering this feature because we trust you with its use. We trust that if you're on the liberal side of the political spectrum, you won't use it to mute everyone who expresses a conservative opinion. We trust that you will hesitate and engage, over time, with the people who spar against you. If you do use it, do so reluctantly and only after you've satisfied yourself that the person you're muting (for yourself only) is not just someone who disagrees with you but someone who, if you're asked to respond to again and again, will otherwise drive you away from participating in our community at all.
Flagging Comments Works
Most importantly, if you see a comment that you think is out of line, FLAG IT. When multiple people flag a comment, that tells us editors that something is going on. All of us editors have other things we do during the day and night. We have families, we have jobs, we have lives. But we've also all committed to keeping the torch of this place lit and working the way it ought to.
When the requisite number of flags on a particular comment are raised, we all get e-mail alerts and convene behind the scenes to discuss it and decide what to do. Sometimes we delete the comment entirely. Sometimes we redact or edit it, particularly if it's only an individual word or phrase that is offensive. We do our damndest to not let our individual political opinions (which are diverse) interfere with our judgment about keeping the sort of civil but robust environment that we think is the hallmark of this place. Maybe you won't always agree with our decisions. But understand that it works, and that we observe when flags get raised multiple times for the same person and we consider that too.
Flagging should be your first resort rather than ignoring a commenter altogether. Please. I have had, myself, the experience of vigoriously disagreeing with a particular commenter on subjects X, Y, and Z over the course of what feels like months of their making obnoxious remarks on those subjects, only to find that when the subject later shifts to A, B, and C, that same commenter expresses my own thoughts even better than I could, and on subjects D, E, and F, offers ideas that I hadn't considered and found persuasive.
That's why this site is valuable, and that's why you should be reluctant to mute anyone. Too quickly-deploying the mute function will deprive you of that experience.
How And Why We Think You Should Use This Tool
In other words, if you've reached the point with Belinda Badbehavior that you're saying, "Damnit, if those editors don't ban her, I'm just not going to go back to the site anymore," then rather than calling for Belinda to get banninated, you can "Ignore commenter" her. We hope that you won't do this until you've already a) tried engaging with Belinda yourself to find out why she says the things she does, b) flagged comments by her for editorial review multiple times, and c) taken a break yourself to cool your temper and remind yourself that the real stakes of a random person on the internet disagreeing with you are astonishingly low.
Put more simply: if you're at the point that you're going to quit the site because of a particular commenter, that's when you should hit the "mute this person" button.
There are many ways and reasons you might use this tool. Think a bit about why you come here and whether that's existentially compatible with why you want to mute a particular person. When you do mute, think about un-muting again after you've had a chance to cool down from whatever it was that made you mute in the first place. You can "unmute" as easily as you can "mute."
Our goal is keeping more people in dialogue over time. We hope this new feature contributes to your enjoyment of our online magazine and commenting community. Your feedback on how this experiment works for you in practice will be welcomed and given sober consideration.
Image by adactio