Vs Traffic Court
February 23rd, 2017. My psyche had been flinching from this date for five months.
It seemed so reasonable last August. A month earlier, in July, I'd opened a letter informing me that I'd been charged for "failure to stop at a red light" on May 22 at the intersection of El Camino and Menlo, in Menlo Park, California. Bail or penalty: $490.
What.the.hell. There was video. I looked at it. I'd made a right turn onto Menlo Avenue. My brake lights were on. Leave it at that. What I wasn't doing, however, was going straight through an intersection, which is what most people mean by the term "running a red light".
I only open snail mail two or three times a year, so the ticket I didn't deserve was already overdue. But it was a mortal lock that I wasn't the first pissed off person that California, or even Menlo Park, had insulted in this fashion, so I started looking for precedents. In less than an hour I quickly found this site, which convinced me I could build a good case. I wrote a letter requesting the charge be dismissed.
The form letter I received in response invited me to make my case in court for an additional $50. I spent some time mulling the potential outcomes. Maybe judges understand how ridiculous this is and soften the charge. Or hey! Maybe I could make a good argument and talk my way out of it. At least I'd feel better for trying.
And so, I ponied up the bail and an extra $50 to make my case. After a couple delays, the court date was set for February 23rd. In the week leading up to the trial, I spent 20 or more hours finding more evidence, thinking of the best way to structure the argument, finding supporting data, making printouts.
But any confidence in my efforts evaporated after ninety minutes sitting in the courtroom.
For the plaintiffs, showing up is half the battle. Some people request a trial just in case the police officer can't make it (which happens much less than it used to), as the failure to show results in a dismissal. Once the officer of record shows up, many defendants then change their plea to no contest.
Of course, my cop was there. I'd been expecting that. Any photo enforcement system has to have a dedicated resource for court cases. My cop was older than a typical patrol officer: a real sweetheart, thin, a bit frail, very gentlemanly. So while the court is going through the other business, this charming, softspoken, friendly guy hunted down his red light cases, called them aside one by one, showed them the pictures, reminded them of the videos, and very gently did his best to persuade them that their cause was hopeless. He was extremely effective; of the four people there with red light tickets, three changed their minds and pleaded no contest for a slightly reduced fee When he asked the fourth (me) to consider the evidence I said, neutrally, "Yes, I've seen it". He was a bit taken aback, but just handed me the pictures and smiled, without attempting to dissuade me.
On that particular day, almost everyone in the room got lucky or changed their pleas to get the discounted penalty. I had to sit there for nearly an hour, watching everything move at an amped speed. No one had any real interest in the meaning of the law, ambiguities, anything that might give me a hint I had a chance. All the plans I had for my case seemed increasingly ludicrous.
Suddenly, the only other trial that day ended abruptly: no interpreter.
The moment had arrived.
My little trial had more in common with TV-show law than I expected. The gentlemanly cop and I sat down at a table with microphones, right in front of the judge (who I think was actually a commissioner, but I called him Your Honor). The bailiff stood by at the ready. The courtroom was almost completely empty.
The judge nodded first to the gentlemanly police officer, henceforth known as GC, who read through his case: the length of the yellow light, the camera's maintenance, provenance of the evidence, availability, notification, and so on.
The judge turned to me. "Do you have any questions?" I took a deep breath, vowed to be fearless, and plunged in.
(Note: the next part discusses the Vehicle Code for Section 21453, here , which outlines the penalties for failure to stop at a red light. Subsection a is used to issue all tickets for failure to stop at a solid red light. Subsection c is used to issue all tickets for failure to stop at a right turn arrow. Subsection b? Well, that's what I'm arguing about.)
I said, "Well, I'm just wondering why I'm being charged under subsection a, which is clearly intended for drivers going straight through a red light. Subsection b is for those who turn right on a red light. Now, I'm not commenting on my guilt or innocence on that point because I wasn't charged. But since I didn't go through the red light, I think it's obvious that I am not guilty."
GC was on firm ground here, and smiled. He would have patted me on the head if it weren't against the rules. "See, now, you've misunderstood the law. Subsection a is for all stops. Then, if and only if, the driver comes to a full stop but fails to yield to pedestrians or oncoming traffic while turning right, then and only then will he be charged under section b."
"I don't think I've misunderstood the law. The wording is ambiguous, but hey, the Supreme Court has acknowledged that if intent is clear, wording can be…vague. It's completely obvious that subsection b is intended to apply to all right turns."
GC was a little sterner, now. "No. If you notice, subsection a also mentions turning at an intersection."
Me: "But it's the law's intent. I have a memo written by Mark Stivers, as well as a newspaper article in the Sacramento Bee confirming that this represents his opinion. Stivers was a staffer for the Assemblyman Kevin Shelley, who sponsored the original bill. He is a clear guide to the legislative intent." [I read this part aloud.]

Still me: "So the lawmakers had written subsection b to apply to right turns. All right turns. They may have neglected to chop out the phrasing in subsection a. But it's not flatly contradicted by the text, Your Honor. A reasonable interpretation of the wording could be that the driver is supposed to stop, just as described in subsection a, but is then allowed to proceed."
The judge leaned back. "Does plaintiff have a response?"
GC was a bit flummoxed. He had clearly planned on common challenges to the citation and we were now way off the reservation. "Let me read the law again to you. That's how we apply it." He read it again.
I shrugged. "I understand how you want to apply it. But the legislative intent shows that your application is incorrect. However, I have another question. What happens if it's a red right turn arrow? You're not supposed to go at all, right? It's just like a straight through."
GC nodded, on firm ground again. "That's subsection c."
Me: "Yes. So when the driver comes to a red light, the law has three separate cases. In two cases, the driver must stop for the entire length of the light." I paused, feeling myself fall into teacher mode with a tough student. "You want to argue that stopping for the entirety of the light is indistinguishable from the third case, in which the driver fails to stop completely before turning right."
GC: "Yes. That's what the law says."
"So being able to go through a red light is no different from not being able to go through a red light. How does that make sense?" I reached for another document, secretly amazed I was able to put on my case. "Let's look at the uniform penalty code, okay? I happen to have the relevant sections handy. Subsections a and c incur a penalty of $490. Section b charges $238."

Still me: "Notice the wording. "Vehicular Responsibilities" for subsection a and c. Doesn't it make sense, in a way, that they would apply to the case when a driver can't move so long as the light is red, no matter what? And then subsection b, the driver's responsibilities with a right turn–stop, make sure no one is coming, and then go. And if you fail to stop, or scare a pedestrian, that's bad, but not as bad as running straight through a light and t-boning a poor driver on a green."
GC was, by this time, displeased. It seemed pretty clear he wasn't used to these trials taking so long. "The failure to stop is the problem."
I nodded. "Yes. So you are saying that section b is just for someone who stops completely while turning right and then ignores a pedestrian. If the person stops and turns left onto a one-way street while ignoring a pedestrian, there's no problem. Meanwhile, someone who fails to stop at a right turn with no one in sight is the complete equivalent of someone who charges straight through an intersection into oncoming traffic."
GC: "That's right."
I reached for another document. "Your honor, taken in combination with the memo, I believe it's clear that section b is intended to cover people who fail to stop at a red light OR stop but fail to pay heed to a pedestrian. Let's take a look at the stop sign code because–as we are taught in driver's ed and traffic school–a right turn on red is the full equivalent of a stop sign.

I swiveled my chair helpfully over in GC's direction, sharing my document, confidence fully returned, sharing my copy."Wow, look at that. According to your interpretation, failing to stop before a right turn on red is not only as dangerous as careening straight through an intersection but just as bad as sneaking around a closed train gate. Meanwhile, a failure to stop at a stop sign is just $238–the same as subsection b."
I would have liked to pause, but I was worried the judge would stop me. "The stop sign law just says the driver has to stop. It says nothing about proceeding without checking for cars or pedestrians. So if I stopped at a stop sign and then scared a little old lady who was taking too long to cross the street, is that running a stop sign or failure to yield? All the failure to yield penalties are $234. So would it be reasonable to think that police officers give the same citation for failure to stop a stop sign as, say, for stopping at a stop sign then scaring an old lady who was taking too long to cross the street? Of course, Menlo Park doesn't put cameras at stop signs."
GC, by this point, had had more than enough of my impertinence. "Stop signs are irrelevant to this case. As section a is written, it applies to everyone who fails to stop."
:…except as provided in subsection b." (tiny bit of snark in my voice.)
GC has become distinctly less gentlemanly. "I've explained why that doesn't apply…"
Me, all lawyer-like: "And I've shown that the legislative intent plus a reasonable interpretation of the text as well as a consistent application of the Uniform Penalty and Bail requirements shows it does apply. When does Menlo Park apply subsection b, by the way?"
GC sighed. "When the driver stops, then proceeds before it was safe."
To this day, I can't believe my big gotcha made it into the trial: "When does Redflex send over a cite for a violation of subsection b?"
Silence. GC had, I believe, suddenly, terribly, figured out where I was going.
Me, with yet another document: "Here's a copy of Menlo Park Business Rules for Redflex, the company running the back end of the revenue scheme. As far as I know, these are current."
GC sniffed. "I am well aware of the business rules."
"Sure, but maybe your honor would like a look, particularly at page 3, which lays out the citation procedure.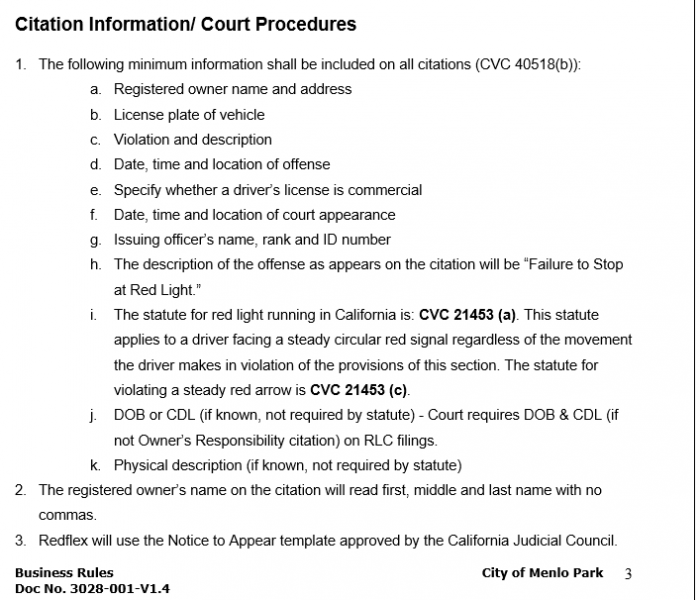 Me: "Your honor will note that the procedures spell out the correct statute for subsection a and subsection c. But there's no (b)!!"
I leaned back. "So, Officer, I'm trying to see how this works. The camera captures every car entering the intersection while the light is red. Say driver stopped at a red light and then carelessly turned right, nearly crashing into a mom and a stroller. This would be a clear case of subsection b as you define it. But a Redflex tech would see no violations of subsection a or c, and thus the driver's behavior would go unpunished. Meanwhile, every driver who brakes and slowly turns right at an intersection is hit up for $490. Or…perhaps that's the point? It seems that Menlo Park only cares about violations that provide a decent amount of money."
GC shook his head vehemently. "The red light camera program is about safety."
Well, look at that. He'd played right into my next point. "Are you sure? Here's an email from Sharon Kaufman, who until she retired this year was the police officer running the red light program. Recently, Menlo Park ran a study to determine whether or not a new camera installation would be, well, worth the money.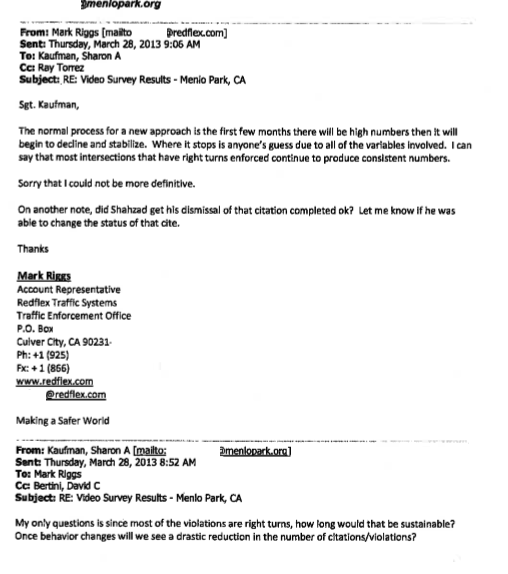 Still me: "When Officer Kauffman learned of a decline in violations, she worried that behavior would change and violations would "drastically" decline."
I handed the email to GC, while speaking to the judge. "Notice, your honor, she presents a drop in citations as a bad thing. But the express purpose of the program, in fact, the required purpose of these programs is to change behavior. Instead, her question shows clearly that she wants to keep those citations rolling."
Now, for the first time in several minutes, the judge stepped in. "But they are trying to change the law. In fact, they got a law through but it was vetoed. I understand your position that this was the intent of the law, but they haven't been able to change it yet."
I was ready for this. "Actually, your honor, there was another attempt after Governor Schwarzenegger's veto and there's one in play right now. The middle one made it through two or three committees, then just..stalled. No real reason given. This one is stalled, too. Possibly because the analysis of its fiscal impact indicates that even a 10% reduction in subsection a citations would cost $7.5 million. All data shows, in Menlo Park and elsewhere, that most of the tickets written are for right turn violations. The revenue loss might be considerably greater than that. Given the state of the state's coffers, it's reasonable to assume California wants the money."
The judge again, trying to be reasonable: "But don't you see, they are trying to fix it."
I took a deep breath again, trying to figure out if it was a good sign or a terrible one that the judge was arguing for GC. "Your honor, my position is that the attempts to fix the bill are unnecessary. Our knowledge of the law's intent, as I've documented, plus a reasonable interpretation of the text and the consistent pattern of the uniform penalties, makes it clear that the legislative intent was to give a lesser fine to people who failed to stop before a right turn."
Judge: "But others don't see it that way."
I leaned forward, trying to be as unsnarky as possible. "The police and governments don't have any incentive to acknowledge that the law is being used unfairly. What other redress is there than the courts? What remedy do the people have, if government officials refuse to use a reasonable interpretation of the law? Why can't I argue that this is a reasonable interpretation, given proof of intent and evidence of other similar penalties? "
The judge sighed. "Plaintiff?"
The plaintiff was no longer the cheerful, slightly wispy GC he was when first we met. The plaintiff wasn't happy at all. He read the law into the record one more time.
Judge: "OK. I'm going to have to review your documents and think about this and come to a decision."
My heart thumped. This was as much of a win as I could hope for. "Can I give you my documents?"
The bailiff stepped in. "The judge will review your documents, but the plaintiff has to review the submissions." GC was already halfway out the gate, but he wasn't particularly gentlemanly anymore. Downright cranky now, was he. My documents got a perfunctory runthrough, but he paid particular attention to the Mark Stivers memo.
I got the distinct feeling that my nice, friendly plaintiff had never before left the court without a guilty verdict. Regardless of what the ultimate decision was, I'd put a serious dent in his day.
Me, I went tearing out of the courthouse in search of a Starbucks, so I could write up the good news in an email to a friend. The account above is slightly modified version of that email.
I live a low-crime life in a high-income world, so my personal interactions with the police have all involved their role as revenue agents for the state, when one of them (or a camera) has randomly selected me to cough up inordinate amounts of cash for offenses that almost every driver commits. Fortunately, I've got enough money to avoid highway cleanup or license suspension for failure to pay, but there are low income people much more careful of the laws than I am who have suffered those fates.
Traffic laws are supposed to be about safety. But many of us feel strongly that they're mostly about money. And in that short trial, I was able to make that point well enough to force a judge to think about it, leaving the cop to feel a little bit angry and helpless. The Populace Struck Back. Time well spent.
I got the verdict less than a fortnight later, but left it sitting in the ever-accumulating stack of unopened mail. I wanted to enjoy the feeling of victory, whether or not I'd won. So the envelope sat on the stand in my living room for five months.
But July came around again, my car registration was due, and it was time for my periodic slog through the snail mail. The pile was large, and I deliberately didn't seek out the verdict, just let it come across the transom.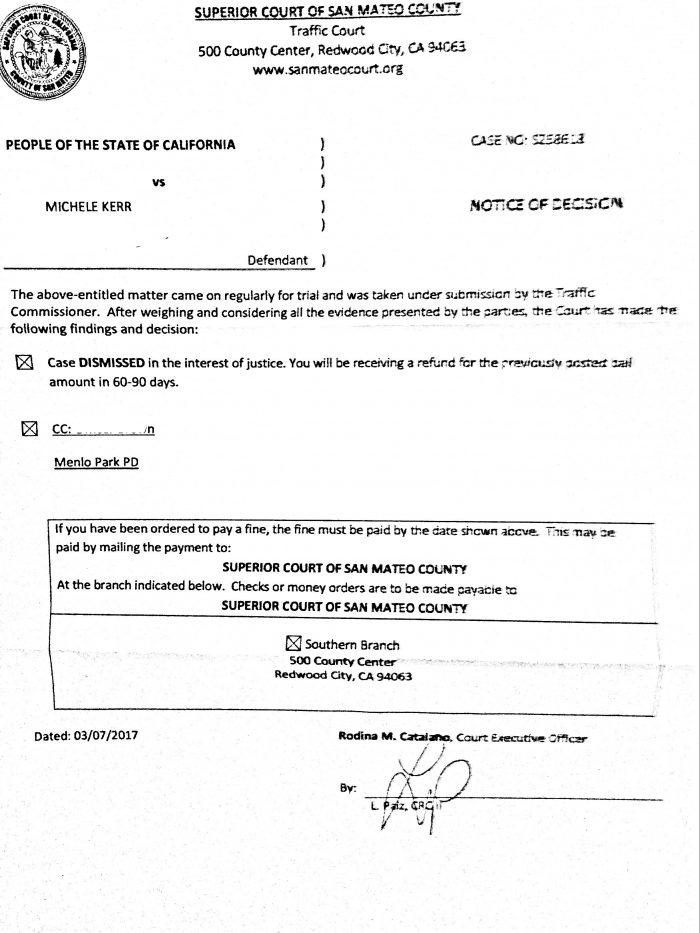 But you know what wasn't in the big pile of mail? A refund of my $540 bail. So now I have to remember to ask the court for my money.
Coda:
I couldn't have done this without the highway robbery research. I'm writing this in part to pay the debt forward. Buried in the trial discourse is the how-to and the supporting data. Jerry Hill has been trying to change the law, but I think he's taking the wrong approach.
Mark Stivers wrote his memo years ago, but no one has really publicized it. As I mentioned above, the Supreme Court of the United States has utterly ignored a plain text reading of a law. Rather than demanding the law be changed, it accepted intent and context.
Similarly, given the clear intent of the Assembly to exclude right turns and the likelihood of the law not making it out of Committee without the change, given the context showing that the dangers of running red lights are caused by those that don't involve a turn and clear pattern of penalty amounts for similar offenses, the people of California should simply request that courts find them not guilty of violating 21453(a) if all they were doing is failing to stop before turning right.
I hope others give this defense a shot.
Coda II: After 45 minutes on hold and a 3 minute conversation, it took less than a week for this to arrive. I decided to break with my usual routine and checked daily until it did.)

Feature Image by Dave Dugdale